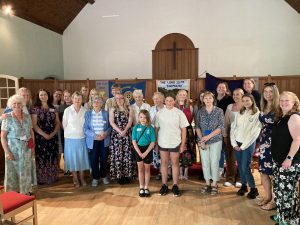 On 15 and 16 July, past and present members of 1st Hurstpierpoint GB spent a very special weekend celebrating 88 years of GB in the village and an important milestone as the group closed, ready to re-launch as 4th Burgess Hill in September.
There was an afternoon tea on the Saturday with memorabilia, photos from throughout the group's history, and many stories shared.
On the Sunday, a special service was held as they thanked God for 88 years and the 800+ girls that have been a part of the group, which has been a consistent feature of the Hurstpierpoint village in West Sussex, giving girls and young women a safe and fun place to be themselves and engage with the community.
At the special service they also prayed for the current group and leaders as they prepare to move, and Team Leader Margaret Taylor was presented with her certificate and badge for 40 years' service, by Minister Rev. Will Fletcher.
The group is moving to Burgess Hill Methodist Church and re-opening on 13 September as their current church is closing – opening a new chapter to this group's long history.
Margaret says 'We're really excited about the move. Obviously, the memories we have at this location will be fondly remembered and recorded, but moving to Burgess Hill will give us lots more opportunities to connect with more girls and community outreach.'