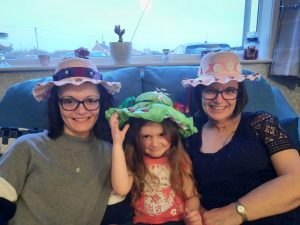 1st Alford
joined in with a
n
Easter bonnet competition this week. B
onnets and  decorating packs or various craft items were delivered to the girls a few weeks ago and they set to work making their bonnets!
The girls could choose how they decorated them using the theme of Easter or Spring. Leaders and helpers jumped at the chance to join in and decorate a bonnet too! Some sent photos of their creations and others wore them to the Zoom meeting to show them off.
This photo shows n:vestigate member Martha-Rose, mum and leader Adele and grandmother and helper Ann-Marie, all three generations of the same family sporting their beautiful works of art!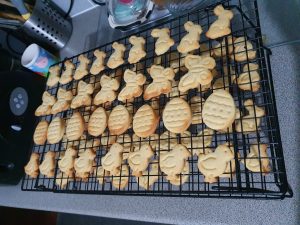 At
1st Charlton Kings
, the group met online together to bake Easter biscuits! It's a shame smelly-vision isn't a real thing because these look yummy!
At 1st Drighlington, the leaders worked hard to produce and deliver an Easter pack for each young person to keep them entertained over the half-term break.
We'd love to see what you've been up to this easter too!
Email us
with your stories and pictures.