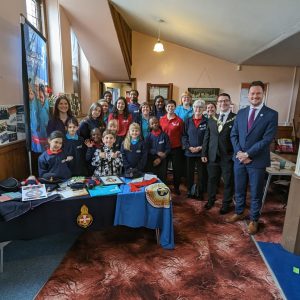 The group, part of Portsmouth Methodist Church, currently has around 20 girls and young women members and 9 volunteer leaders.
A special church service took place on 26 March 2023 to mark the group's big birthday and the group's members took an active part – reading prayers, being presented with awards, and doing an action song learnt for the occasion.
The service was followed by tea and cake. It was attended by around 100 people including MP for Portsmouth South Stephen Morgan, the Deputy Lord Mayor of Portsmouth Councillor Tom Coles, former Girls' Brigade members, Girls' Brigade members' families, friends and supporters.
Stephen says '8th Portsmouth Girls' Brigade does such fantastic work in providing girls and young women with great opportunities to learn new skills, grow in confidence and make new friends. I was delighted to join them to celebrate their 80th anniversary last weekend and look forward to supporting them in the future.'
The group's members also enjoyed a party night instead of their regular meeting on Monday 27 March 2023.
Team Leader Catherine Burt says 'We can't begin to imagine the hundreds of girls and young women the group has worked with over the past 80 years, but we hope to continue to be a positive influence in the lives of girls and young women over the next 80!'