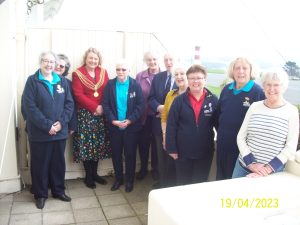 The hall was decorated with banners and balloons with a cupcake display in the shape of the number 97. Each member received a free cupcake and a balloon and the group were privileged to be joined by the Lord Mayor of Plymouth and her consort for part of the event. They both enjoyed looking at all the memorabilia that had been laid out on display and chatting to the GB leaders, girls and their parents.
As a result of the celebration, and to recognize Anne Stapleton's BEM award, the leaders were invited to visit The Lord Mayor's official residence overlooking Plymouth Hoe, which was was given to the city by Lady Nancy Astor who was the first female MP to take her seat in Parliament.
Leader Lynda says, 'Our group of 8 duly arrived and we were treated to tea, coffee and biscuits over which we chatted to The Lord Mayor and her stepmother about the history and work of Girls' Brigade, (her step mum had been in Girls' Life Brigade as a girl). Jean Osmond and Lynne Rogers were able to share about their National and International roles within GB and the visit ended with a tour of the house and being shown "The Astor Diamonds" which Anne and I were allowed to hold!!!