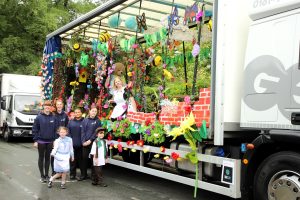 Altrincham Festival started in 1977 and for 21 years, 1st Timperley prepared and entered a float. In 1998 it came to the end of an era, however, 1st Timperley Team Leader, Rosalinda Fazackerley, continued to serve on the Altrincham Festival committee.
In February this year, (after 25 years away from creating floats) Rosalinda signed up the group for this year's festival when it made a return.
Unfortunately, on Easter Sunday, God had other plans for Rosalinda and she passed away. So in her honour, the group continued to make her dream come true…. and with the Boys' Brigade on board, they created their own 'Secret Garden' dedicated to Rosalinda's wonderful life.
Rosalinda's daughter and GB leader Jayne says, 'Our girls led the parade with the flags, and our float followed shortly behind. The day was filled with high emotions, and family, friends, colleagues and members of the community looked on as we paid tribute to a lady who dedicated over 64 years of her life to 1st Timperley.

'She was greatly missed but we did her proud! Huge thanks to those who stepped in to help with the preparation. Plans already in motion for next year!'